Well, I've been on vacation for a week with only sporadic internet access. To give the impression I did more in Maine than swim, boat, and watch The Red Green Show, I figured I'd put up the latest on the Romans.
The whole (almost) of the painted army: three of four Legion units, one of two units of Archers, and two stands (out of four units/twelve stands) of Auxilia. There is also one of two stands for my unit of Scorpions painted, but not pictured. I'll add some pics of those at the end of the post.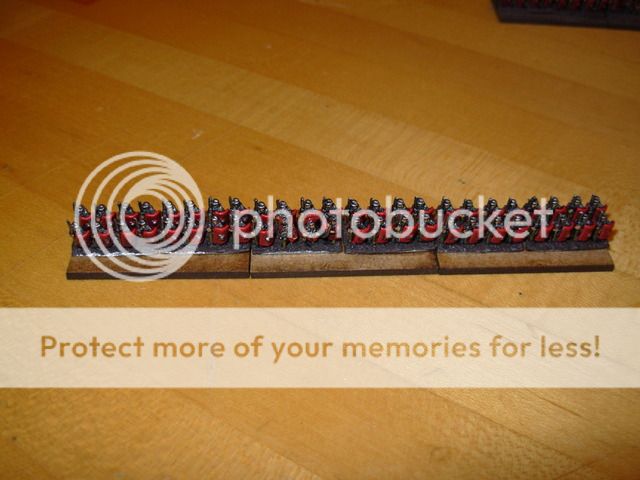 The latest Legion unit.
Archers. I need to basecoat the strips on the last stick before they get glued to a stand.
Auxilia - in the same state as that last stick of Archers.
Scorpions - one stand of two I need to do. These are going to prove irritating - the legs on the gunners are cast very thin on both strips I got (in fact the reason the other isn't done is one gunner is broken off at the knees; I'm still trying to decide whether to order or ask for a replacement or try to repair it) and they will probably end up very brittle.
So I have a bit over five of the thirteen units complete. I have one stand of Scorpions, three and a third units of Auxilia, one unit of Archers, one unit of Legion, two units of cavalry, and the two commanders (a total of three figures on horse) remaining.