Battle Report Demons of Chaos vs Orcs
On Veteran's Day, Elliot and I met up at the Chicago Battle Bunker for an 1850pts pick-up game. Pitting his Orcs vs my Demons of Chaos. This time I did not bring the Screamerstar list. No need to bring the Screamerstar (easy button) army.
Elliot brought the following:
Warboss- MegaArmour, CyborkBody, BossPole
Warlord Trait: Move through Cover (Ruins)
Warboss- Bike, PowerKlaw, CyborkBody, BossPole
Lootas x9
Lootas x9
Nobs x5 - Bikes, CyborkBody
Painboy - Grot Orderly
PowerKlaw + BossPole
BigChoppa
Mega Nobs x5 - 1 kombi skorcha
Battlewagon - 1 Big Shoota, Deff Rolla, RPJ, Grot Riggers, Boarding Plank
17 Ork Boys - Shootas
10 Ork Boys - Shootas
10 Gretchin + Runtherd
Battlewagon - 1 Big Shoota, Deff Rolla, RPJ, Grot Riggers, Boarding Plank
2 Lobbas - 3 Ammo Runts
2 Kannons - 1 Extra Crew, 3 Ammo Runts
Dakka Jet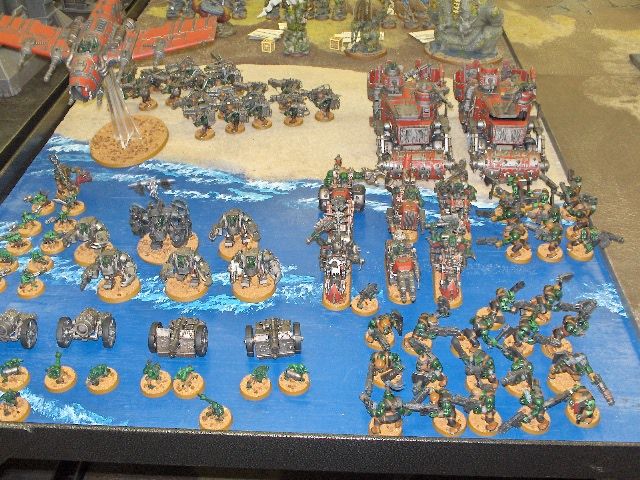 I brought the following Demons of Chaos:
GUO: Iron Arm, Enfeeble, Life Leech
Plague Flail (+1 Str), 3+ armor, 4+ FNP
Warlord Trait: Reroll Warpstorm Table
Demon Prince of Nurgle: Enfeeble, Endurance, Life Leech
Balesword (4+ PSN, Instadeath), +1 Wound and IWND, Cleaving Strike 6s to hit = 2x Str
Herald of Nurgle: Grimoire, Palanquin, Locus of Fecundity
17 Plaguebearers w Plagueridden
10 Plaguebearers
18 Demonettes
12 Demonettes
11 Horrors
11 Horrors
7 Furies of Nurgle
18 Flesh Hounds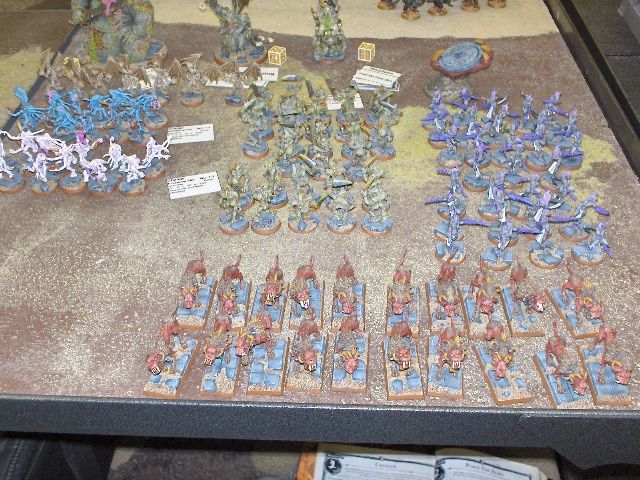 Scenario:
Primary:
5 Objectives
Relic
Secondary:
First Blood
Warlord
Linebreaker
No Night Fight
Ork give Daemons first turn.
Daemons Turn 1:
Flesh Hounds get endurance+grimoir for a 3++ save and 5+ FNP.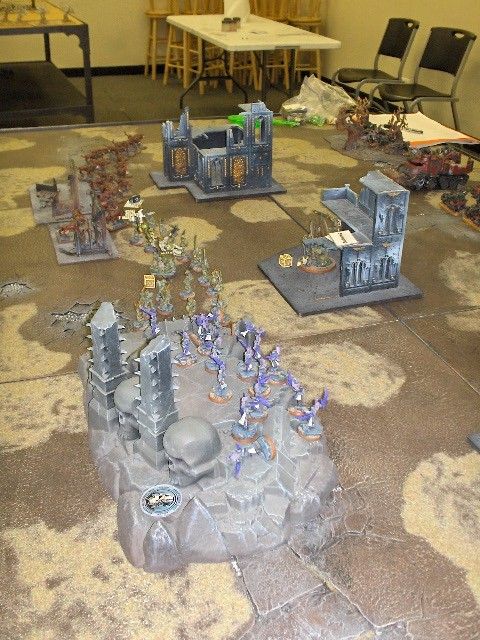 Daemons advance.
Warpstorm: 5 --> does no damage
No shooting and Assault for the Demons.
Orks Turn 1:
Orcs movement.
Boys in BattleWagon do 12 wounds to Daemonettes. They GoToGround, 6 die.
Nob Bikers kill 4 Plague Bearers, MegaArmorNobz kill 1 more, Lootas 4 more
Kannons kill 1 Daemonette
Lobba and QuadGun do nothing
No Orc Assault.
Daemons Turn 2: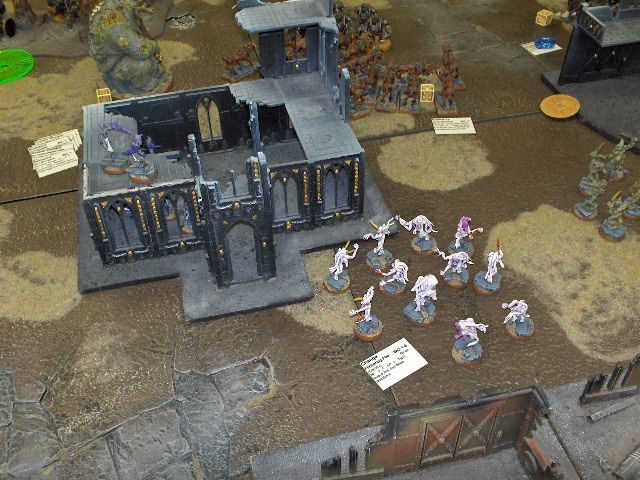 GUO, 12 Demonettes and 2 units of 11 Horrors each come in for Reserves.
3 Daemonettes die to Dangerous Terrain test.
Demon Prince fails enfeeble on the Nob Bikers
Flesh Hounds get endurance
I fail Grimoire on the Demon Prince, who now has a 3+/6++ save.
Warpstorm Table: 8
Roll 6 against the Grot unit. 5 grots die. Fail Morale, Fail reroll of Morale, Run off the board. --> First Blood Daemons.
Quad Gun intercepts and kills a daemonette.
GUO does no damage to BattleWagon with Life Leech
Life Leach from Demon Prince Denied.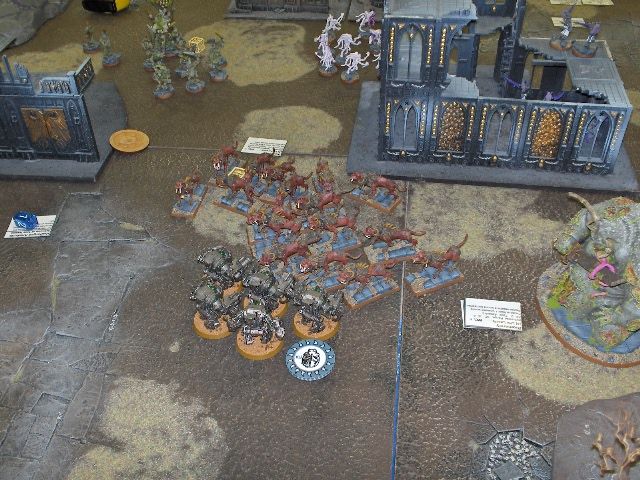 Flesh Hounds charge the BattleWagon and Blow it up. No damage to the Flesh Hounds from the resulting explosion.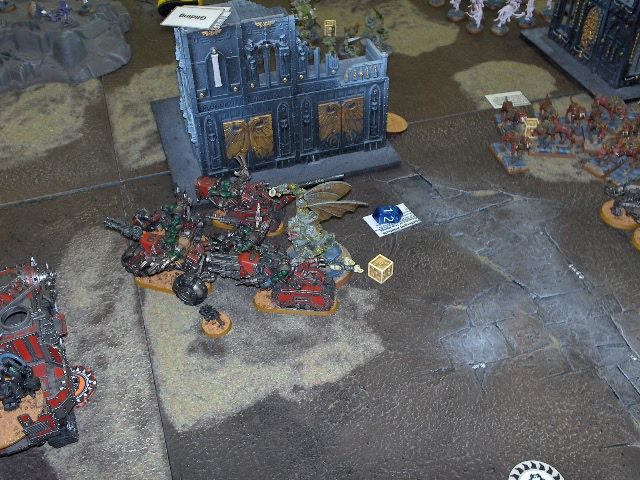 Demon Prince charges the Nob Bikers. Takes 5 wounds from overwatch but saves them all.
Demon Prince challenges, Warboss declines, DP kills 1 Nob Biker and takes 2 wounds in return. Demon Prince down to 3 Wounds left.
Orks Turn 2:
Dakka Jet and 10 Orc Boyz come in from Reserve. Orks Waaagh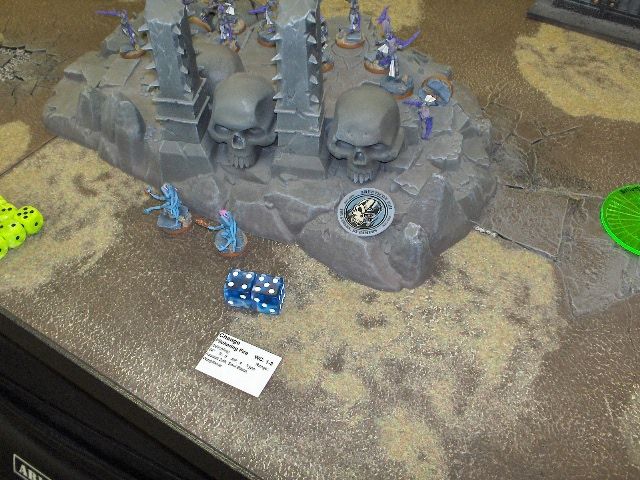 Dakka Jet kills 8 Horrors, Lobba kills 1 more Horrors, leaving 2 left.
Kannons kill 1 dog, Boys kill 3, Lootas 4.
MegaArmor Warboss and Boys charge DP. Boys will soak up wounds and MegaArmor Warboss or BikerWarboss will go for insta kill.
Demon Prince challenges, Orks decline, BikerWarboss sent to the back.
Demon Prince kills 5 Orc Boyz.
Demon Prince take 2 wounds from the Orc boys. But Nobz wielding Power Klaws wiffs 7 attacks. Combat locked.
I lucked out with the Demon Prince, since he only has a 6++ save vs. all those Power Klaw attacks.
MegaArmor Nobz charge Flesh Hounds.
Flesh Hounds lose 7 wounds to 1 and lose 6 more wounds to instability.
Daemons Turn 3
Plague Bearers and Furies come in from reserve.
Flesh Hounds get grimoire.
MegaArmorNobz get enfeebled, Demon Prince gets endurance, Boys get enfeeble
GUO gets Iron Arm up to T10
Plague Bearer w the Nurgle Herald picks up the relic.
Warp Storm 8, 1 Lobba takes a wound
Lootas Go To Ground and lose 2 to Pink Horrors Flicker Fire. 1 more then dies to WarpFlame when the Orcs fail a Toughness test.
GUO charges in to help the dogs. 4 MegaArmorNobz die, Dogs sweep the last one.
Demon Prince challenges and is declined by the Orcs. Biker Warboss sent to the back.
Demon Prince hits 5 times, one being a Precision Shot. I kill 4 Orcs and I target the MegaArmor Warboss with the Precision shot. MegaArmor Warboss fails LOS, fails his Inv save, get insta killed by the Balesword wielding DP.
Demon Prince takes 2 wounds from the Orcs/Bikers, but pass all saves.
I win combat, and the Orcs and OrcNobBikers break and get away, since Demon Prince of Nurgle cannot sweep.
Ork Turn 3:
Dakka Jet finishes off the remaining 2 horrors.
Nob Bikers and Boys regroup.
Rest of the army shoots at the DP and he passes ~10 saves before finally dieing. It took everything the Orc had in shooting to finally take down the Demon Prince of Nurgle.
Battle Wagon Deff Rollas GUO and Flesh Hounds doing 1 wound and killing 1 hound.
Lobbas focus on the relic holding plague bearer killing him. he drops the relic
Daemons Turn 4:
Flesh Hounds fail grimoire.
GUO get Iron Arm to T10
NobBikers get enfeebled.
Another Plague Bearer picks up the relic.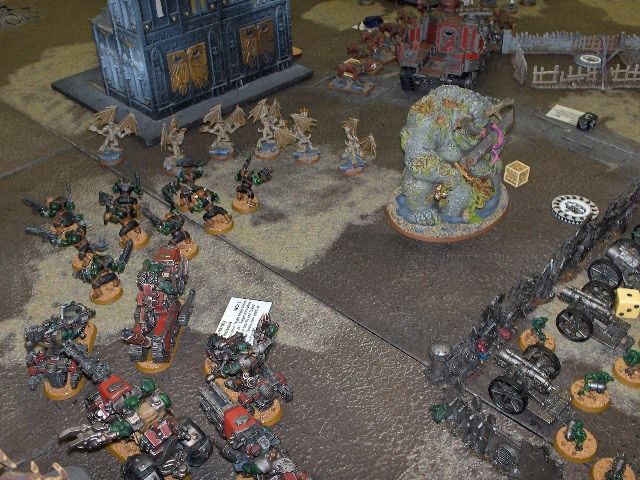 Demons movement.
Warp Storm:10 (+1 inv sv)
GUO perils life leech
Horrors fail to cause any damage to the lootas.
Flesh Hounds charges the Battle Wagon, immobilizing and stunning the Battle Wagon.
GUO fails a charge on the Orc Boyz, rolling a 2.
Orks Turn 4:
Orc Movement
Shooting takes daemonettes down to 2
Lobbas fail to drop the relic holding Plague Bearer.
Nob Bikers kill a bunch of backfield daemonettes and fail charge (needed 11)
(at this point, Elliot considered turbo boosting the Nob Nikers to keep them away from the GUO and go for cleaning up my Demonettes on the Objective. But ended going for the charge and failed)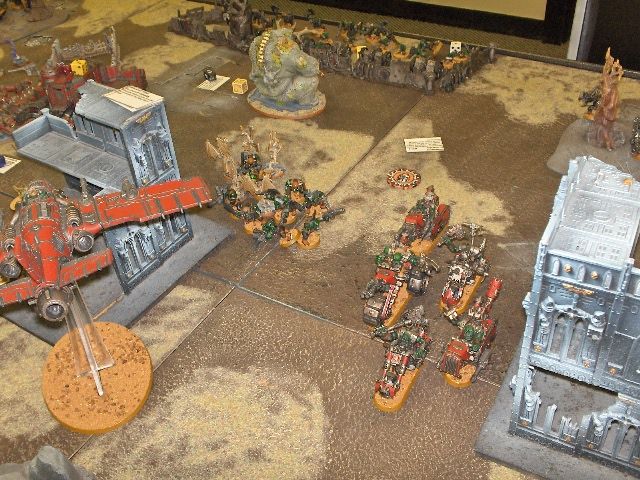 Orc Boys shoot and charge Furies and wipe them out.
Daemons Turn 5:
Enfeeble on Nob Bikers denied.
GUO get Iron Arm to T10 and the grimoire for a 3++ save.
Warp Storm: 10 (+1 Inv Sv)
Flesh Hounds charge and wipe out boys.
GUO charges Nob Bikers (needed 6"). Challenges BikerWarboss, he accepts. No damage, Combat locked.
Orks Turn 5: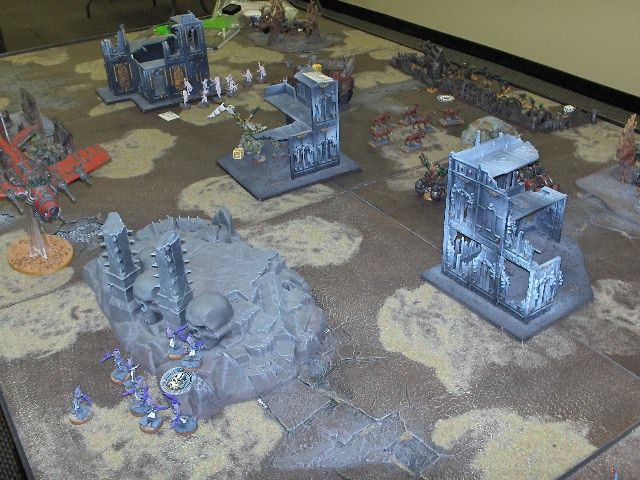 Dakka Jet Hovers to shoot at backfield Daemonettes.
Daemonettes near lootas wiped out.
Few dogs fall to shooting.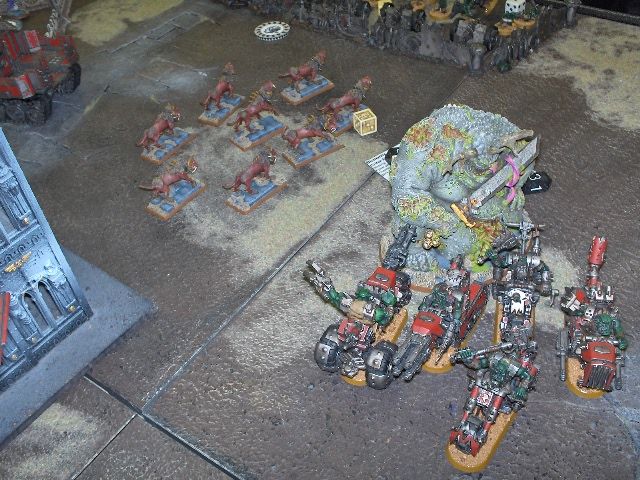 GUO does 2 wounds to BikerWarboss, Takes none in return. Orcs pass morale and stays locked in combat.
Game ends on a roll of 1 at the end of Turn 5.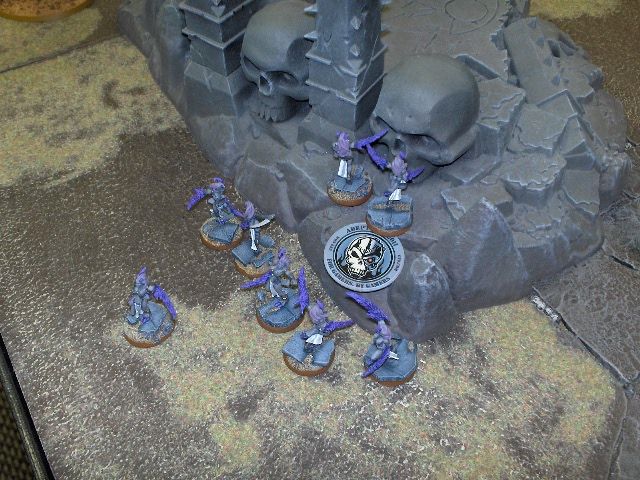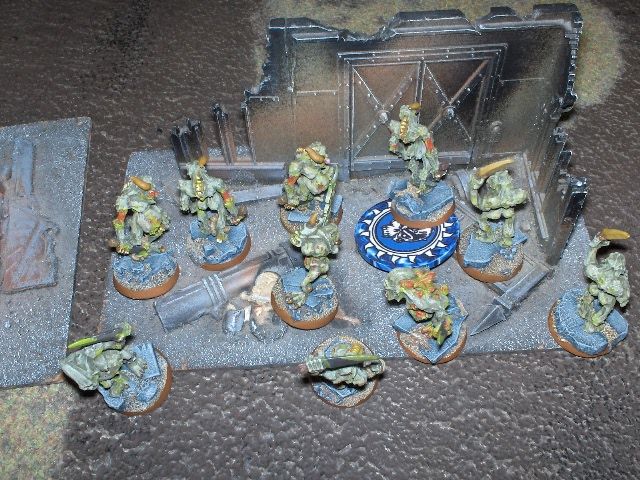 Demons have 2 Objectives to 1 for the Orcs.
Demons also have the Relic.
Demons has First Blood and Warlord.
Win for the Demons.