I played an apoc game against Tim over the memorial day weekend. We agreed on a 6000 point game. I knew he'd be running some mix of Imperials and Grey Knights, and that there'd be a lot of purifiers involved. He knew I'd be running either orks or daemons.
I decided to run an armoured ork force, because playing with a lot of boyz against that many purifiers would be somewhat self-defeating, and I knew he didn't have any super-heavies to contend with my Daemon Lords if I ran daemons. I also broke out a lot of models I haven't used since the new codex came out - looted tanks, that I simply used the IG rules for, assuming grots were doing the shootings.
Our armies ended up very very different:
The ork armoured battlegroup:
3 big meks w/ forcefields
1 Kill-blasta tank w/ grot gunners
6 deathroller battlewagons
1 non-deathroller battlewagon
2 gun trukks w/ zzap guns
1 gun trukk w/ supa kannon
gun wagon w/ zzap gun
45 lootas, in six squads, some 7, some 8.
15 burnas
Big squiggoth w/ kannon
12 buggies w/ TL rokkits
1 buggy w/ skorcha
9 kans, mostly grotzookas, some rokkits
3 deff dreads, all combat arms
2 looted Leman russ w/ HB, HB sponsons
looted Basilisk
looted Griffon
looted Leman Russ Demolisher w/ lascannon
fighta-bomber w/ grot bombs & burna bombs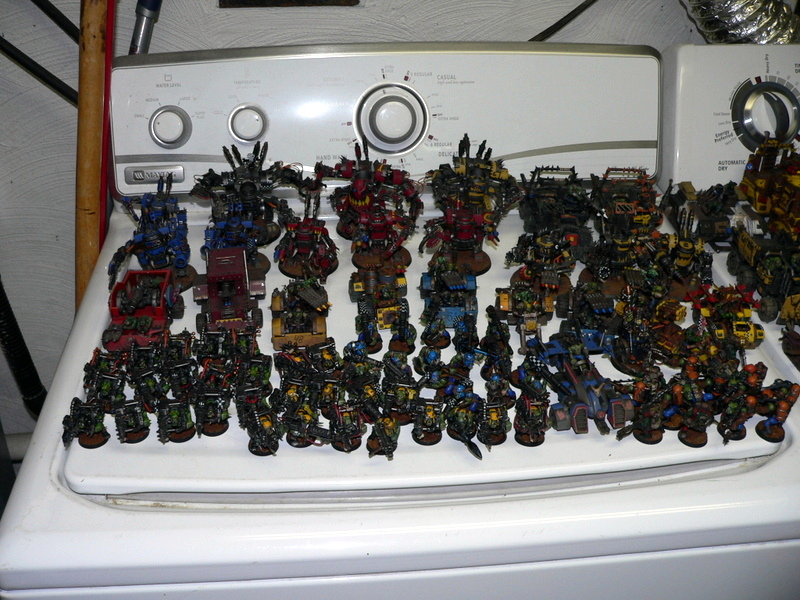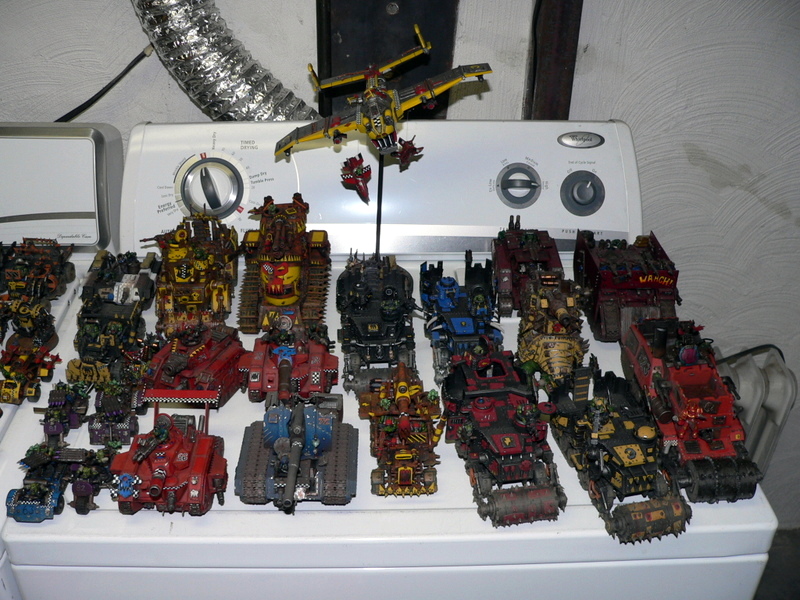 Oh, and scoring... 3x trukk boy units and 4x 10 grots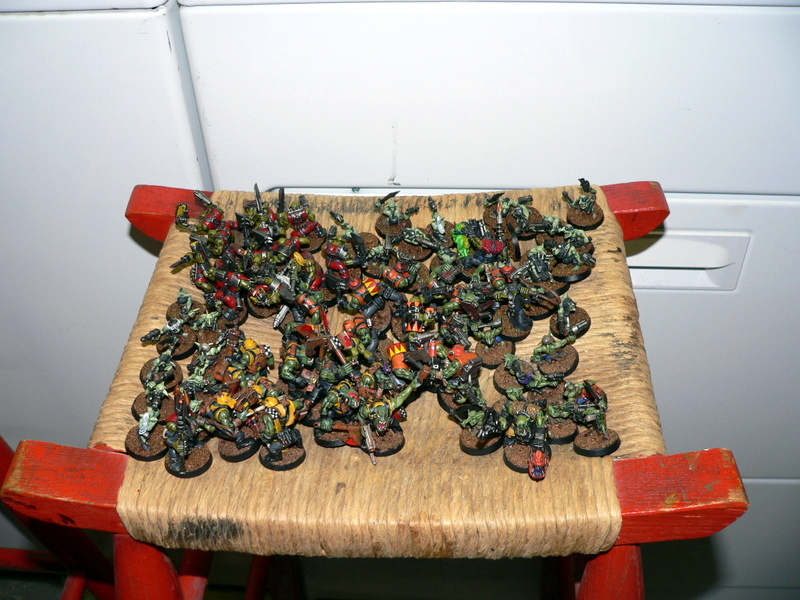 Imperial Super Friends
Captain Lysander & squad, in Land Raider
Logan Grimnar,
Njall Stormcaller,
Arjack Rockfist & two grunts, in drop pod
Captain Pedro Cantor, in drop pod w/ unit of sternguard (also included a librarian)
Another unit of Crimson Fist Sternguard in a drop pod
Captain Kor'sarro Khan, on Mooddraken, w/ bike squad (also included a librarian)
Castellan Crowe
Inquisitor Coteaz (in drop pod w/ the space wolves)
Some other inquisitor w/ Deathcult assassin unit, in Chimera
Vindicare assassin
4x 10 purifiers in Rhinos
2 Grey Knight Rifledreads
Whirlwind
Thunderfire cannon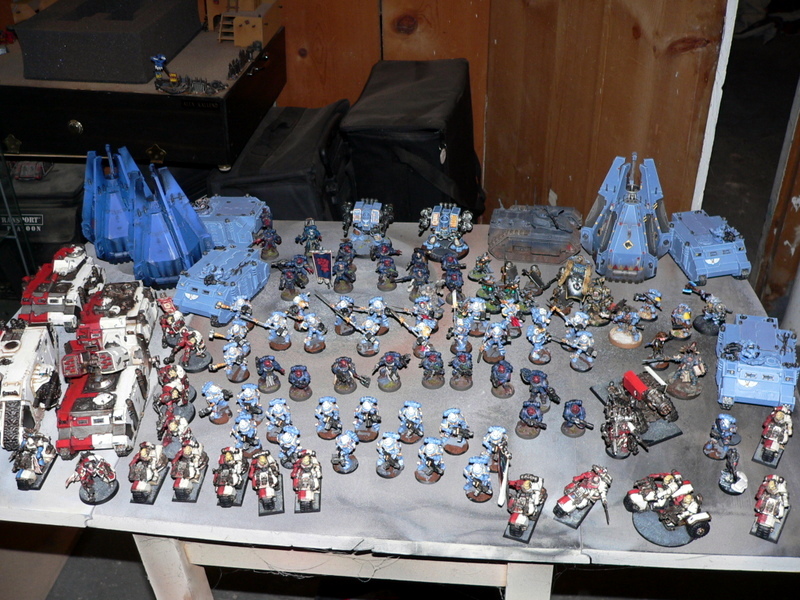 Apocalypse deployments can be somewhat uneven. You roll a die and divide the table based on where the arrow points. In this case, I had a huge amount of space to deploy in (probably good, as I had more guys), but I spread out too much, worried about where the drop pods would arrive and where the outflanking bikes would show up. I also deployed off the starting line, as to allow my superior ranged fire to whittle down his transports and squads to more manageable levels.
Tim deployed first, putting his tanks up on the line.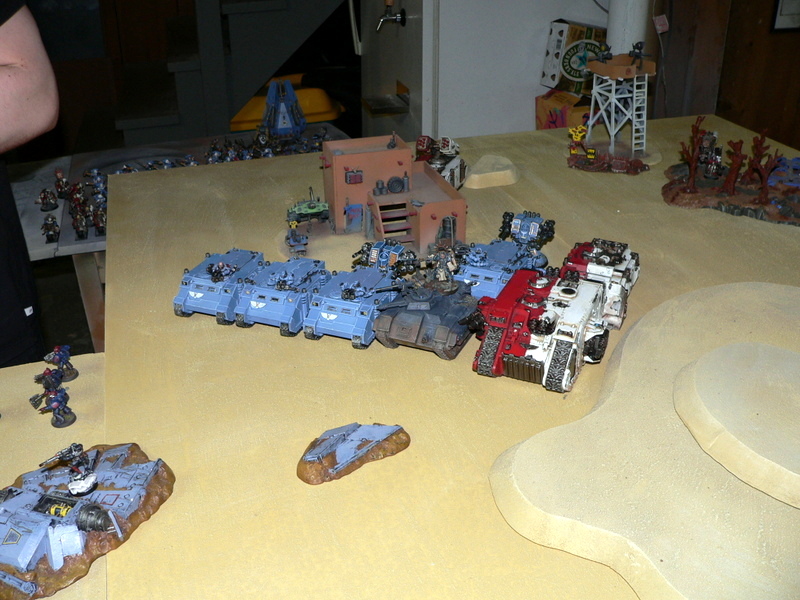 I made a wall of AV14 wagons, all protected by a mek, and the Ork Tanka Mob formation, which allows a tanks within 6" of the boss tank (the kill blasta) to ignore shaken results. As they've all got extra armour, the plan is to keep the lootas firing from the bunker for a turn or two and then move out.
One of the strange apocalypse rules is that objectives are placed after deployment. Five of the six objectives end up in Tim's area of the table, quite a drive for my boyz. One is placed under my kill-blasta tank that is holding a unit of grots and a big mek.
As they say, plans rarely survive contact with the enemy.
Turn One
His two sternguard drop pods land right in front of the wall, and combat squad as they get out.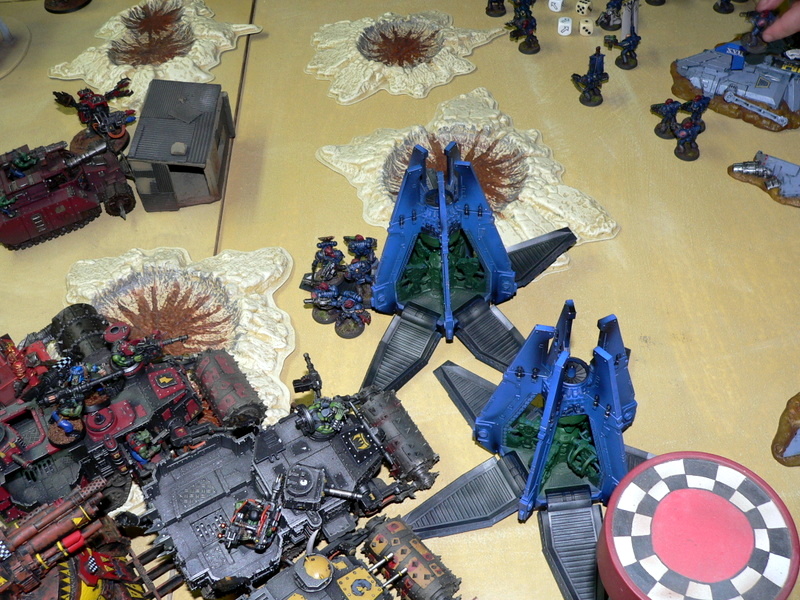 Between the sternguard and the vindicare and land raider, I lose four battlewagons before I take a turn. I failed every cover save, and one of the loota units is pinned as they fall from their tank.
Pedro Cantor shows his true nature as he and the librarian Gated away from the sternguard that were left in front of the orks...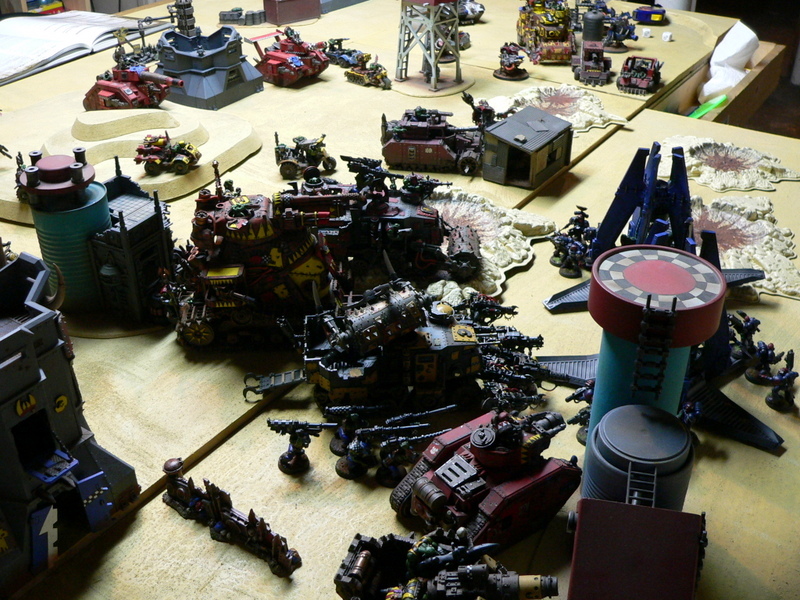 I pour fire into the sternguard, but am unable to finish any unit off, in spite of the demolisher, lootas and kill blasta. The assassin makes every save, and my long range fire, while accurate, only knocks a stormbolter off a rhino, shaking another.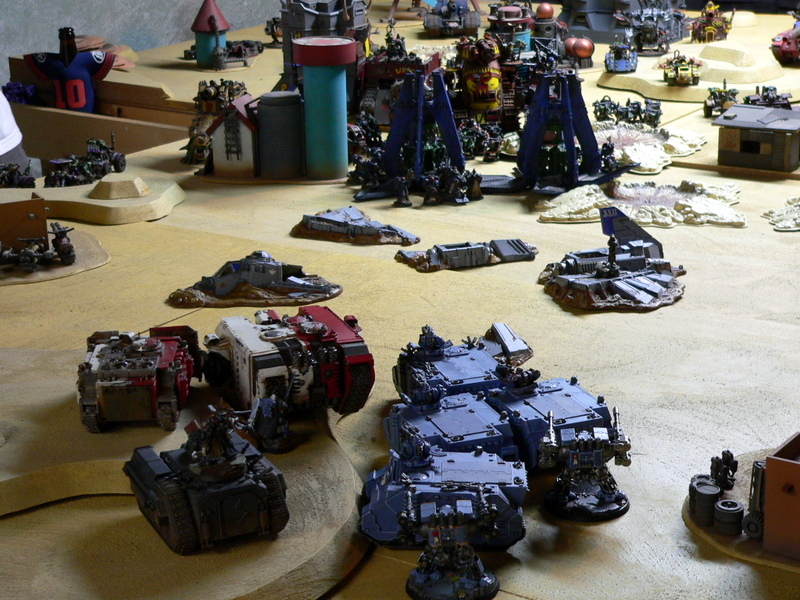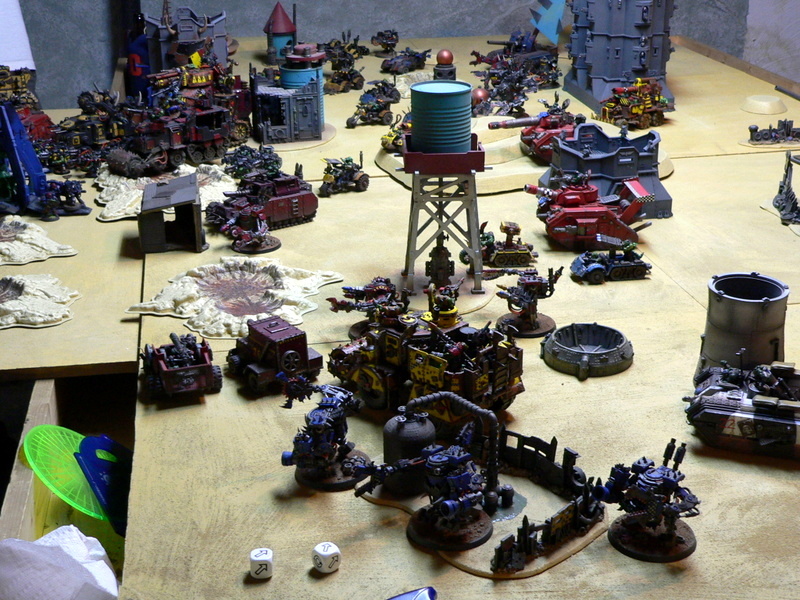 Turn Two
Khan and his bikes make the outflanking roll and show up where needed. Khan runs like Pedro did, leaving the librarian and one combat squad to fight in the mess. That squad kills the squiggoth (and the lootas inside get pinned), while the librarian charges a unit of lootas. Another wagon died this turn as well, leaving me with one deathrolla (not in the center), one in the center, still with lootas, and the burna boy wagon.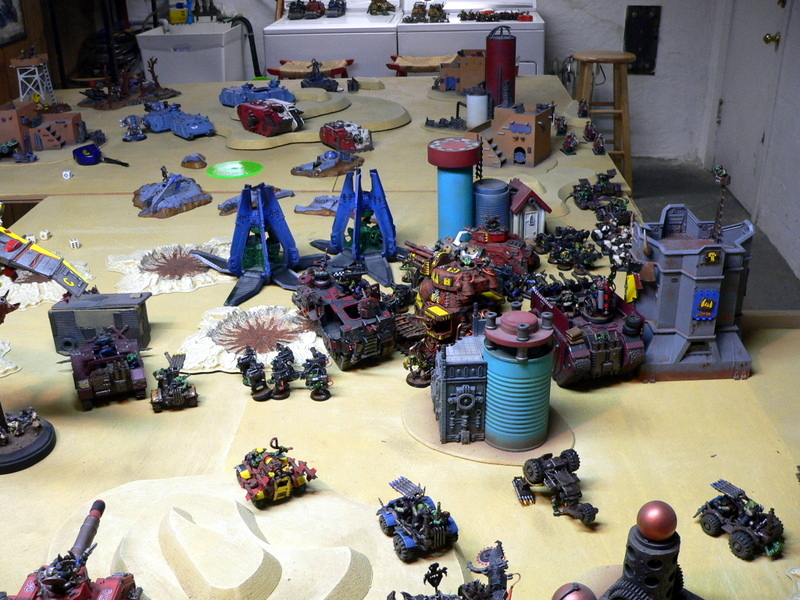 My airplane and one unit of trukk boyz show up. I need to use the trukkers to go for objectives, but all those purifiers will make short work of them, they're still untouched, so I need to conserve it and bring in on in a less-optimal location.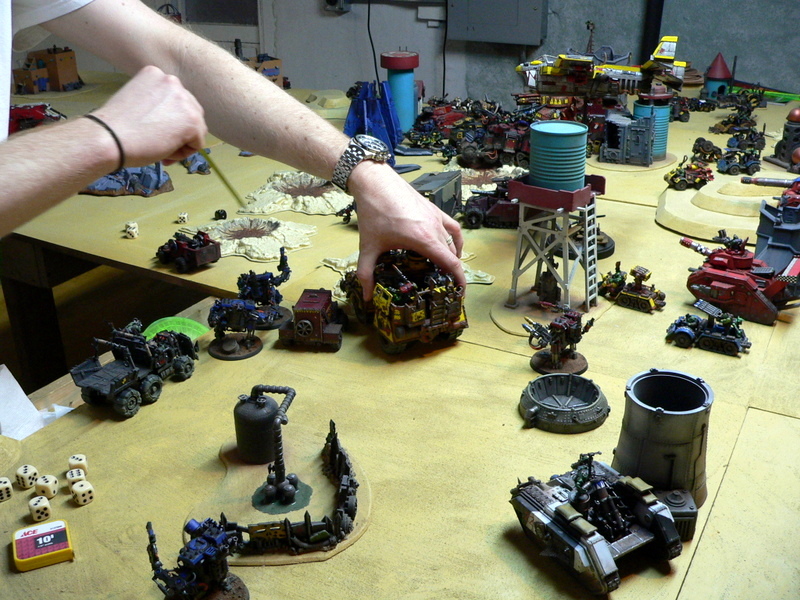 I place the bomba so that it can fire on the assassin, but he passes all his saves again. The burna boyz put 60 hits and 15 wounds on the biker combat squad, but they pass all their saves. I do manage to kill off the lone meltagun sternguard though. With these close-by threats not dying, I'm not getting anything downfield at all. I do take another stormbolter off a different rhino though. (I'm getting pens, but not accomplishing anything).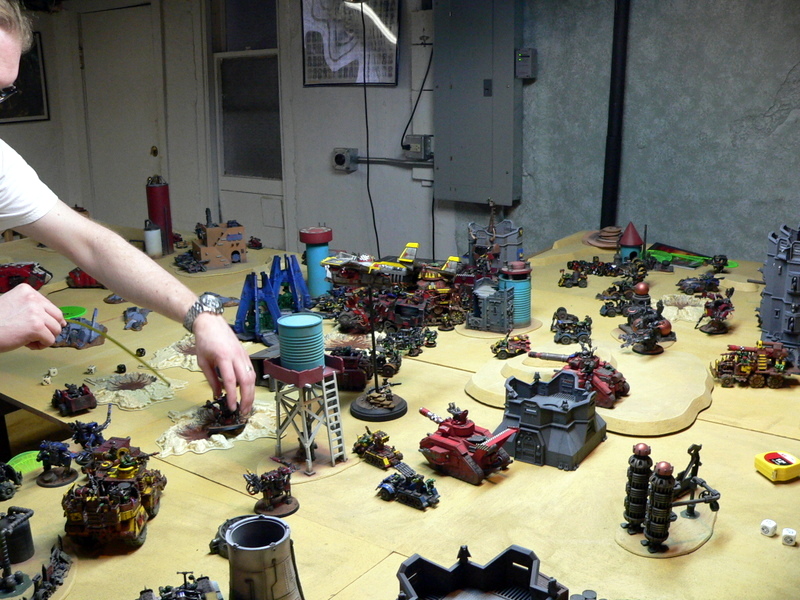 Turn Three
Now the Space Wolves+Coteaz drop pod in, right behind my main lines. They get out and Thor throws his hammer, but I finally make a save. The land raider takes a potshot on the battlewagon that's not part of the main line, and explodes it. The mek and grots inside run. Meanwhile, his librarian finishes off the lootas he charged the prior turn, and the rest of those bikes charge the lootas who had been in the squiggoth's howdah.
On my turn, my other trukks show up, and they're still not safe to put anywhere near the objectives. One of them piles out to kill the bike squad, the other gets as close as it can, through the traffic pileup. I fire almost everything I have at the newly arrived spacewolves, and I get them down to just Logan, Njal, and Arjac, with one wound left each. My plane and rokkit buggies finish off the rest of Khan's squad, and the assassin is dead.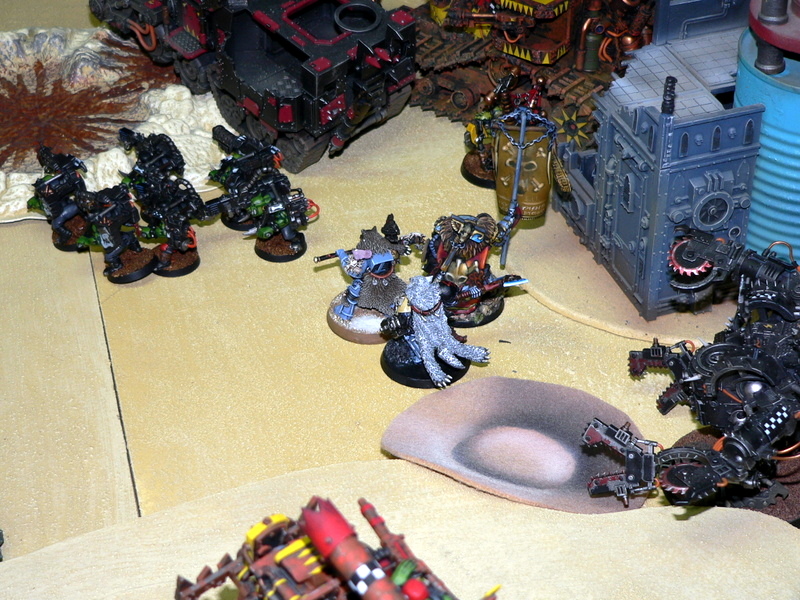 Turn four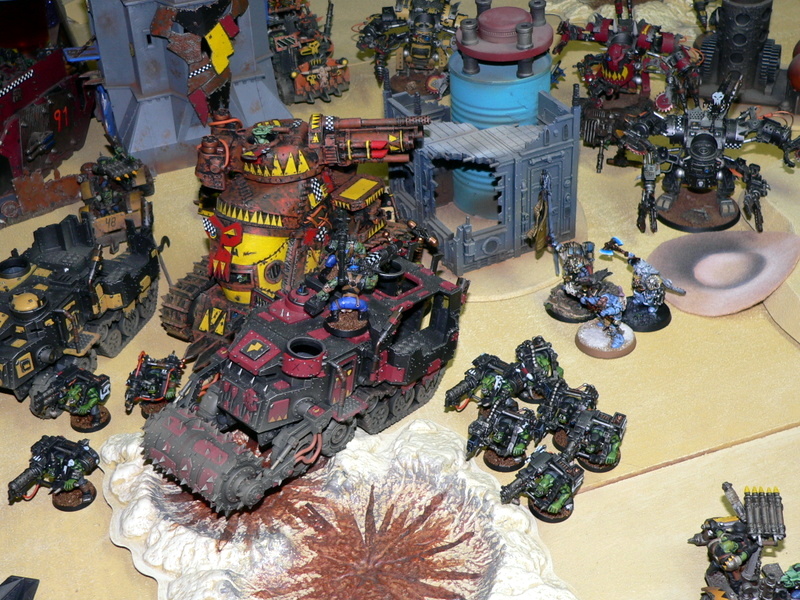 And then Njal explodes, doing his multiple S8 shots on everything nearby. I lose a bunch of buggies and small vehicles, and my last deffrolla, and take some random damage, like an arm off a dreadnought.
Before: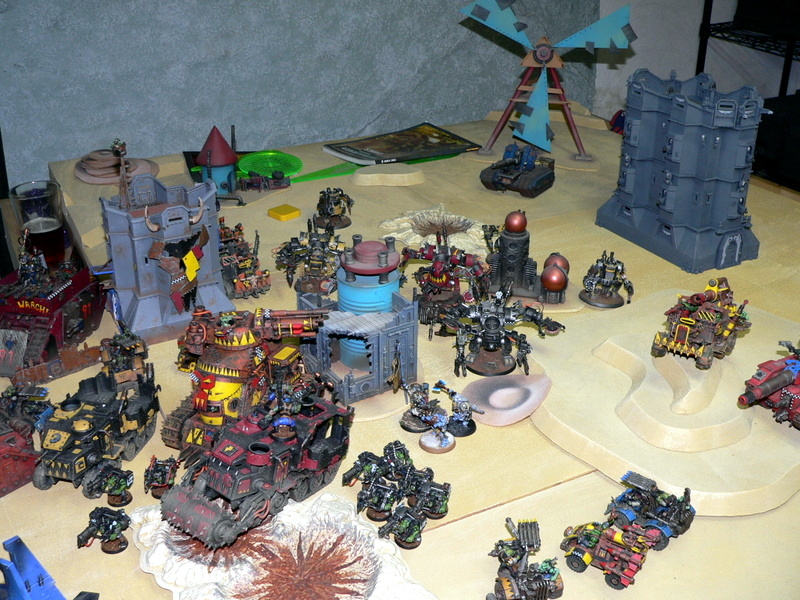 After: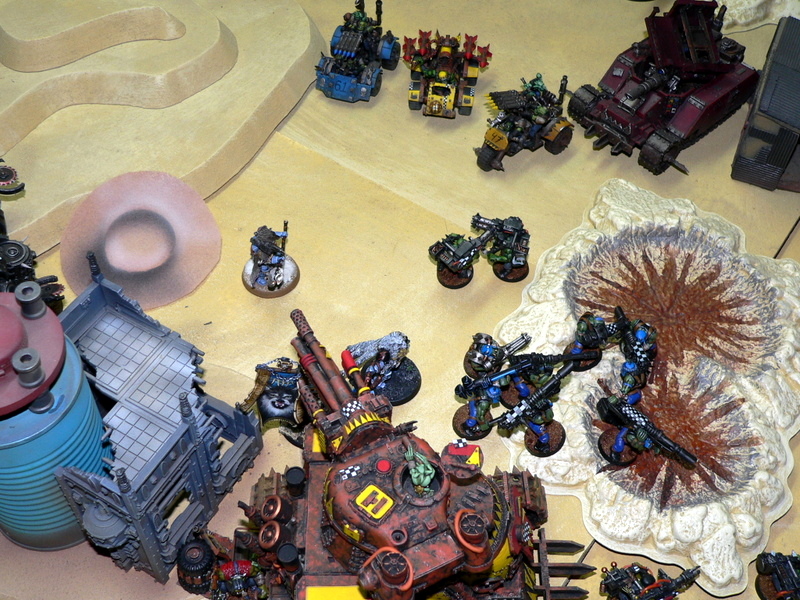 Logan charges the unit of lootas, kills two, but fails his last save. Arjac charges the Killblasta, and I get a break, it loses one structure point and gets immobilized (which the mek can fix later). The lootas run. Njal, who had split off, charged the unit of two lootas, killing both.
Around the rest of the table, the land raider fired at something, to no effect, and the demolisher was shaken.
The Purifiers trek towards objectiveland, and a unit diembarks to shoot at the airplane.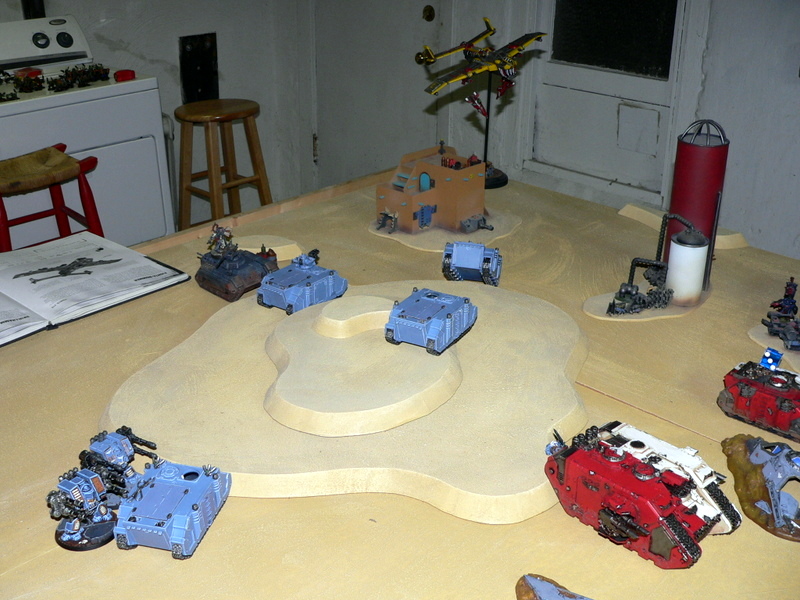 On my turn, I unload everything I can at Njal and Arjac, and kill them off. My basilisk kills some purifiers who had gotten out to shoot the flyer. A Leman Russ immobilized killed another rhino too.
And, then we check the clock, and Tim has to go. At the end of turn four: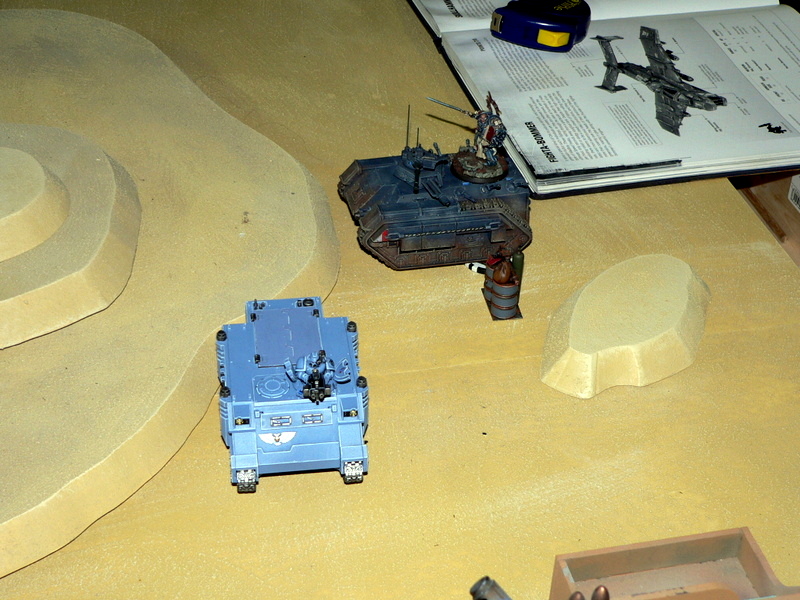 Tim's assassin unit holds two objectives.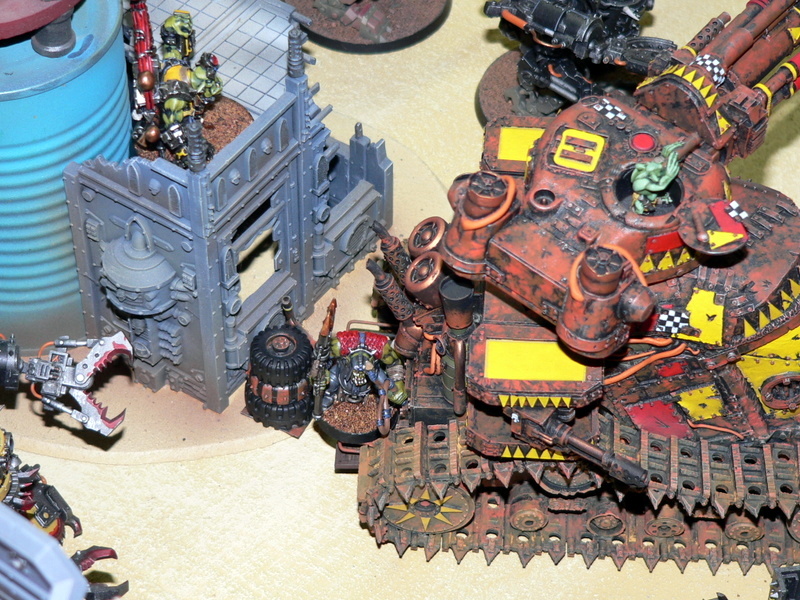 My grot unit, in the kill blasta, holds one.
Kill tally:
Orks:
Logan Grimnar, Njal Stormcaller, Arjar Rockfist, Kor'sarro Khan, Inquisitor Coteaz, 2 wolfguard, 1 librarian, 15 sternguard, 10 bikers, 1 vindicator, 3 drop-pods, 1 assassin, 6 purifiers, 1 rhino. ~2500 points
Imperials:
6 battlewagons, 32 lootas, 10 grots, 1 big mek, 3-4 buggies, 1 guntrukk, 1 gunwagon, 1 squiggoth ~1750 points
Victory to the Imperials, but at a high cost, as so many of their heroes lie dead on the field.