it felt like a shame to leave the Battle Reports Forum so empty..... here is a repring of my GT report:
Here is my usual (i.e. more details that you need/want) battle report from my first Grand Tournament – Chicago 2007
This is a 500pt army list tournament, 5 Scenarios picked randomly from LOME. The Chicago GT had 14 participants including several very familiar faces and some new ones. It was a great chance to catch up with other LOTR fans, that after two tournament experiences, I'm proud to call friends.
Overall, the tournament was exceptionally well run. We were running concurrent with larger Fantasy and 40K tournaments. It was convenient to have all three running concurrently as it made for a single timer and well planned breaks. We had a single "official referee" – Josh. He was great at handling disputes and was very open to discussions leading up to rules, scoring questions, etc.
My GT army was taken from Eorl's Riders List. For those that don't know, this list requires all models to be mounted. I had Eorl the Young, a Captain of Rohan, 6 Outriders, 2 Royal Guards, and 16 Riders of Rohan (6 with bows) – 26 Models total. I knew I'd have one of the lowest model count armies but I was anxious to try out an all mounted force.
I didn't manage a picture of my whole army (for shame!) Here is a snapshot of part of them:
Scenario #1 – Reconnoitre
Objective – Get more models than you opponent across the board before either force reaches 25% of its total.
Opponent – Joe Krone's Angmar army, led by the Witch King, 1 Barrow Wight, 1 Shade, 4 Spectres, and a host of orcs. Joes' army was quite scary, all sorts of evil magic and stat draining badness!!
My main strategy was to volley fire early in the game with my block of 12 archers and to move up in a controlled fashion and make my chargers whenever I felt I had the appropriate advantage. I knew I had a good force for this scenario as I could easily outrun any other models across the board. However, I needed to make sure that I didn't loose to many models to get broken early.
My initial volley fires were relatively uneventful. Joe moved his army into two large forest areas that were difficult terrain and required "in the way" shots. He was very strategic in positioning his forces. I let my Captain of Rohan get a bit too close and he used a Spectre to move him into the open, a barrow wight to transfix him, and then surround him with orcs. He actually lasted several turns but died on the battle field with all his might. However, Eorl the Young made up for this by using his special might rule and received 3 free points of might during several heroic moves. I took my time with this army and whittle it away when his orcs moved out into the open terrain.
Joe did a great job of staying in my head, using his Spectres to move my models all over the board. I found out how much fun an army with dark magic can be!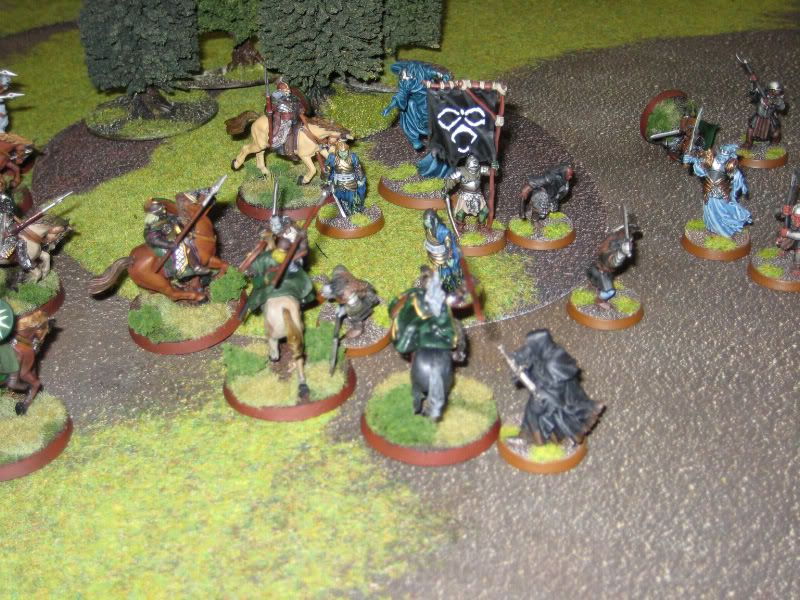 One lucky turn, I had four throwing spears hit the WK, the rolls to wound ended up with 3 sixes! He burned up all his fate. A Royal Guard was able to charge him and win the fight. The extra strikes landed the killing blows.
During the early battles, I moved two RoR off the edge of the board to secure the early lead on the objective. In the end, the power of the Rohirrim was too strong and his force was broken. With the Witch King dead, there wasn't enough courage on the board to hold his army together and I managed a Major Victory!
Joe's army was a blast to play against. He's evil magic really put me on the defensive. I was quite happy to score a Major win in my first GT match against a great opponent.
Scenario #2 – Meeting Engagement
Objective – Reduce your opponent to 25% of his force
Opponent: Kevin Ramig's Dwarfs – Balin, Khazad Guard, Iron Guards, Dwarf Archers, Dwarf Warriors. I think he 40 models in his army.
This was probably the worst draw I could face for this scenario. He greatly outnumbered me and his minimum defense value was 6!
We both started the match exchanging volley fire. His first shots landed on my Riders and actually Dismounted Eorl the Young. This was quite a blow as Eorl's horse is armoured and has a special rule that allows him to move 12". I compensated for this by having a Rider dismount and Eorl hoped on his horse.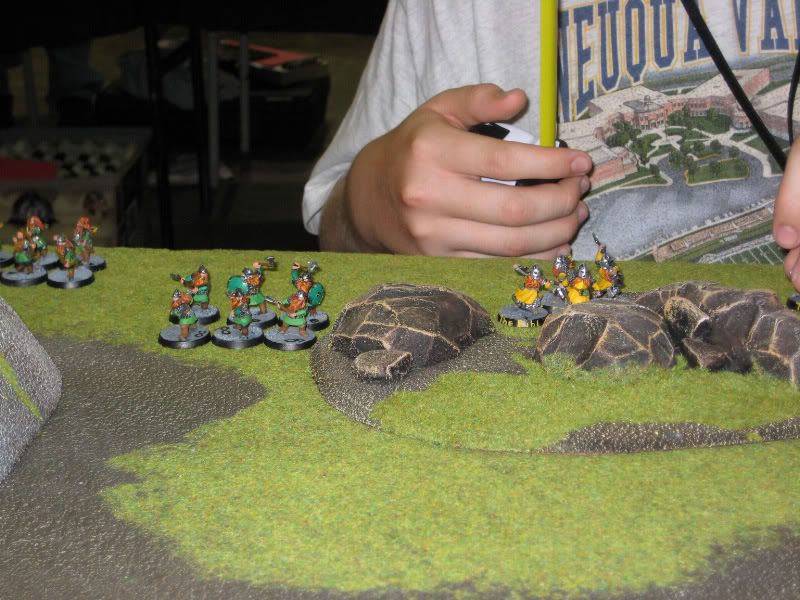 I moved steadily forward as we exchanged volley fire with our archers. Eventually I closed with 24" of his archers and was in range for normal fire. I managed to kill a few and break up his volley block. I kept my archers between 19 and 24" so that he couldn't target me but I could still target him.
I was bringing a flanking force to bear on his guard when he had a particularly strong shoot phase – he managed to kill my three lead RoR on one turn. I was nervous about the charge now and called a heroic move to move back out of the way. At this point, I knew my only chance was to play cat and mouse and try to dink at his army with my archers. Not very heroic but the best I could hope for.
As much as I tried to stay clear, he'd formed long walls that was difficult to maneuver around. In the end, he just had too many models and I couldn't' get off enough effective charges.
In a last ditch effort to pull a minor defeat, I charged Eorl past the line at Balin. However, I hit my 25% model count on the turn before reaching him. I lost the battle in a major defeat. We played out the Balin vs Eorl matchup for fun, but Eorl lost in the end as all his fate and might had been expended.
Scenario #3 – Sieze the Prize
Objective – Dig out an ancient artifact and carry it off any edge of the board.
Opponent – Eric Alexander's Hobbits of the Shire. Led by Strider, Rangers of the North, Merry and Pippin (on ponies), Fatty Bolger, Farmer Maggot and a bunch of Archers, Militia and Sheriffs.
If my match-up in the last game was the worst possible draw, this on was the complete opposite. I had the fastest character available going against the slowest movers in all of Middle Earth.
To start the game, I charged straight forward. Within two turns, I crated a wall of Riders in front of the objective. I dismounted a single Rider to dig out the artifact (his horse failed its courage and fled). Eric's tactical use of his bows penetrated a whole in my wall and he managed to kill the Rohan warrior before he could dig it up.
Learning my lesson, on the next turn I dismounted 3 Riders, formed a stronger wall. At this point, I engaged the hounds of Farmer Maggot and the Pony riding Hobbits. The first the turn, I didn't roll the necessary 1-2 to dig out the artifact. On the following turn, I charged into Strider to tie him up. I managed to win the fight and knock him to the ground. On the third turn, I dug up the prize. I passed it off to Eorl and within 2 turns he was off the board. A second major victory for me. This scenario only lasted 45 minutes (of the allotted 2.5 hours). I felt bad for Eric as he really just had a bad draw.
At the end of Day 2, I was in the top 6 for battle points. However, I was facing two scenarios that my army wasn't really designed for.
Day 2
Scenario #4 – Domination
Objective – control all four points of terrain, one in each quandrant of the board.
Opponent – Andrew Stuart's Easterlings – led by Khamul, Easterling Captain, 5 Kataprahcts, and a host of Eastering spearmen.
I was nervious about this scenario because of the timing of the victory conditions, the game would end some time after a force was broken (on a roll of 1 or 2). I knew I had a low break count. As it turned out my opponent had only 1 more model than me so his break point was equally low.
My tactics were defined after his first move. He sent one group of Easterling Spearman (with the Captain) towards one objective. He secured the closest objective with another, and he sent the remaining few spearmen, Katapratchs, and Khamul after the other one. I started with my typical volley fire. I had an amazingly successful turn – I managed to kill 1 Katapracht, and dismount Khamul. Quite a good start. For the second part of my strategy, I moved all my non- riders towards his group of seven Easterlings by themselves.
In a couple of turns, I brought the full force of Eorl's riders on that group of Easterlings. They fell quickly under the double strikes of a Cavalry charge. I secured the second objective with one Rider, sent four Riders back to support my Archers at my original objective. I split the remaining group to attack each of the remaining objectives.
At his original objective, I made several more kills. He was very close to breaking. I had only lost two models at this point – both to Black Darts from Khamul. I was poised to take both of the last two objectives. Within 1 or 2 turns I would have had more than sufficient numbers to swarm them both. I broke his force the next turn and was just hoping the dice would be with me. It wasn't. At the end of the turn, he rolled a 2. I had two objectives in control, we contested 1 (2 models each) and last was under his control. Even though I thoroughly dominated and controlled the entire scenario (only suffering two casulaties, the best I could was a draw. It was very disappointing outcome but there were plenty of lessons learned. It was still a very fun match and Andrew was a good opponent. He ended up winning best sportsman for the tourney.
Scenario #5 To the Death!
Objective – Kill everyone without breaking
Opponent – Jamie Welling's Gondor Force. He had a King of Man, Captain of Gondor, Ranger Captain, 5 Knights of Minas Tirith, and a host of archers (including rangers) and warriors.
This was my worst possible scenario. I really didn't think my force was designed to total destruction of another army. I was very worried about my model count and I was worried about facing an army with 14 bows. Afterall, Rohan horses are pretty easy to kill and then my army would be a bunch of very expensive Warriors of Rohan.
This match ended up being my most tactical of the tournament. As expected both of our armies started off trading volley fire with our archer blocks. Jamie's efforts were a bit more successful, managing a kill or two on outriders (no helping fate rolls!).
Jamie split his attack force until two groups and moved around a dense forest in the middle of the board. For this scenario, the terrain is purposefully placed in very difficult positions. This really created a number of "pinch" points that hampered my armies mobility.
As on of his attack group came around the terrain, my archers were within regular firing range. I managed to score two wounds on the King (one saved by Fate). He moved in a position, facing an inevitable charge from my bow-armed Riders and Outriders. In the meantime, I'd been moving my Non-Archery block forward behind the terrain (avoiding volleyfire) towards the other attack block.
The next turn, surprised Jamie as instead of charging, I moved my army back another 5" and shot again. However, based on the pinch points, I was going to have to charge soon. When I did charge, I couldn't get enough models into his Captain's block. We exchanged some fight wins with minimal causulaties on each side. I moved Eorl in position near the Archers to prepare to lead a charge if necessary.
The following two turns were crucial moment in the game. I won priority so Jamie called two heroic moves (one from Captain and one from the King). I countered with a double heroic move myself (Eorl and Captain). I won the roll off and at least tied up the King with the subsequent charge. He charged into my other army and tied up most of my Riders in a pinch point. Over this turn and the next (again me winning priority) really turned the battle. I had the magical dice rolling and won nearly every fight – knocking him down and gaining double strikes. Within two turns, he was broken. In the next turn, after a heroic move to allow his Ranger Captain to get his Stand fast condition, he moved in a position to be charged. I charged in the last pinch point and his remaining captain and two rangers were killed. The last two turns had a few failing courage and the remaining sole Ranger was swarmed by the Rohirrim. The last scenario ended with a Major Victory. For a scenario that I was sure would be very difficult for me, I managed to only lose five models.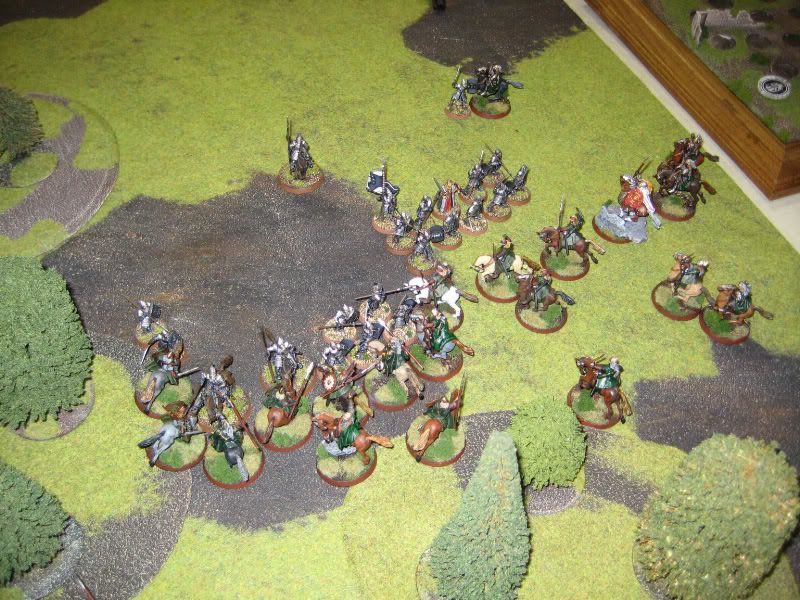 This match ended up being my favorite. I felt that it was my most tactical; I had my best luck and really performed well in a scenario where I felt like the underdog. Jamie was a great opponent. He was a joy to play with and his army was painted amazingly well. Every model had eyes picked out with incredible details! Jamie got my votes for both Player's Choice and favorite opponent.
The second day was an incredible for me. I played two scenarios and only lost 7 models in combat. I really leanred what the value of a strong calvary charge is all about.
With 3 Major Victories, 1 Draw, and 1 Major Defeat, I found myself tied in second place for total battle points. I'm not sure where my final overall standings yet – I missed out on the top three positions. I'm guessing the final overall points were very tight. Jamie ended up as First Overall. In addition to his strong game play, he was buoyed by Player's choice and favorite opponent bonsuses. I expect he also received top painting marks. Frank Brown took second overall with his Isengard force. Joe Krone finished third overall with his Angmar force.
I did win third place in best-painted force and was quite happy with that. In addition, I had formed a "team" with two other players from our local GW store. Our team finished best overall (there were at least 4 teams total). My teammates were Andrew (the Easterling Force) and Josh who fielded a Grey Company army that took Best General award for most battle points.
All in all the Grand Tournament was great fun. I loved being around some many LOTR enthusiasts. The level of game play was great and the sportsmanship and camaraderie was excellent. I got to see a lot of people from Adepticon and got to meet a number of new really great people.