My wife and I are driving home from the Throne of Skulls tournament in Las Vegas. It was another great weekend with both my family and my gaming buddies, though sadly my job requirements meant I couldn't spend as much time with folks as I would have wished.
I had wanted to go to this tournament for almost two years, and been frustrated in my attempts to qualify. I had started to work on my Mordor force, but since I hadn't qualified I stopped work after priming and basing them, along with most of them having Tausept Ochre basecoats. But two weeks ago I was told I could attend, so I got busy finishing the army. I had about a week to paint the army while I wasn't working (week after school ended, but before summer school started). I painted like crazy, and managed to get the entire army playable before I needed to leave, though I wanted to get it better detailed and highlighted.
Turns out I didn't need to worry, though I continued up until the event started just on the principle of the thing. I hadn't paid too much attention to the scoring, and there was no painting score for the event. While painting would be judged separately, it would not count for overall. The format itself was new, and worth mentioning. First, armies would be effectively playing against their fellow armies of the same kind. For LOTR, that meant Evil armies records would be compared to other Evil armies, and Good against Good. There would also be no Major/Minor wins – just Win/Loss/Draw. A win was worth 3 points, a draw 1, and a loss 0. People would also vote for their single favorite opponent. For 5 rounds, that meant a maximum of 20 points: 15 for 5 wins, plus 5 for votes. The top scorer of each kind of army would win Best General for that army type. All armies of the same kind would be averaged together, and whoever had the greatest difference between the average and their own score would be Best Overall.
This meant that sportsmanship would only matter if you were someone's favorite opponent, but if you were this was a very significant difference – two votes would effectively turn a Draw into a Win. This would become a major issue. There was a secondary objective – Skull Taker points. Each round, we totaled up how many points of our opponents' models were taken off the field. Whoever got the most would win the Skull Taker trophy for the system.
My army was almost completely new. I reused a few orcs, and I finally used my Mordor Uruk-Hai, plus my two painted wraith models. At 700 points and with painting time a major issue, I decided to go for higher point (and defense and strength!) Morannon Orcs, though I preferred the original metal orc models from the Fellowship era to the plastic Morannons.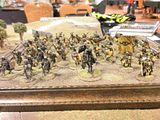 Barad-dur
Orc Shaman
Orc Drummer
Orc w/Banner
30 Morannon Orcs with shields (4 with spears)
7 Orcs with spears
18 Orc Trackers
Cirith Ungol
Mordor Uruk-Hai Captain with two-handed weapon
6 Mordor Uruk-Hai with shields
Witch King of Angmar (2/10/1) on horse
700 points
66 models
5 Might
18/56 bows (Barad-dur)