I posted these onto TLA, but it was suggested that I post them here as well. I'm almost done with the last one, I might have it up tonight.
I managed to make it out to Orlando, Florida for the Necronomicon this year. I made the reservations shortly after I attended the Gathering in the Desert in February, because after my strong showing there I figured I had a shot at the overall tournament circuit, but also because I just had such a good time at the Gathering. Of course, this was also when GW was promising to schedule their own GTs and may be able to attend either the Vegas GT or LA Games Day. Then they dropped those, so my dreams of Tournament Circuit glory were dashed, but I still went to have a good time. Fortunately, 10 years or so of unused frequent flyer miles and hotel points leaves more than enough to fly across the country first class and stay in a nice hotel next to the venue.
My list was the same Errand I played at the Gathering in the Desert, which is as follows:
Mithrandir's Errand
Gandalf the Grey
Ecthelion, Heir to the Steward of Gondor (King of Men, heavy armor, shield)
5 Guards of the Fountain Court with shields
23 Warriors of Minas Tirith with shield
14 Rangers of Gondor (9 with spears)
Models: 44
Bows: 14/42
Might: 5
After taking a red-eye out of San Francisco and arriving in Orlando around 10:30 am on Friday, I played in the Blood Bowl tournament just for fun. My Skaven are still really fast and really fragile, and I did manage to win one game in a rather lopsided fashion, losing the other two to people who played keep-away from the Skaven (which is a really, REALLY good idea, BTW). I met Tom Keegan and some of the other tournament organizers and started getting ready for the main LOTR event the next day. One nice thing that I saw in the packet was that all of the scenarios were different, one of the few flaws of the Gathering. Exhausted from my sleep-depriving cross-country flight and needing and early start (who starts a gaming tournament at 8 in the morning?!?) I went back to my room and fell almost instantly asleep.
The next morning I woke with enough time to get my shower, breakfast, and still highlight my rangers cloaks and wooden items. One of my terrible habits is procrastinating to the point where I paint furiously immediately before ANY tournament I play in. With my rangers looking considerably better than they had earlier, I packed up and went to the first day of the 2009 Necro.
Round 1
Seize the Prize (modified)
Frank Brown – Tower of Ecthelion/Ithilien
Boromir of the Fellowship
Beregond
Cirion
10 Citadel Guard with longbows and spears
6 Guards of the Fountain Court with shields
6 Knights of Minas Tirith with shield
5 Osgiliath Veterans with shield
12 Warriors of Minas Tirith with shield (4 also with spears)
Models: 42
Bows: 10/39 (split across ToE and Ithilien)
Might: 10 (!)
The Board
The last two GTs I attended I pulled pretty light opponents first round. Not this time. Frank Brown is the two-time defending champion of the LOTR GT Circuit. He was also playing a very mean force which would be hard to hurt, with a lot of F4. The scenario was the same one from the Gathering – the objective had to be taken off the other side of the board.
Deployment was fairly typical – there was a stand of trees to the right of the objective (from my perspective), and a large stone building with a stone wall at about 10 o'clock from the objective. Frank put his infantry in the front and his cavalry to either side, with Boromir hiding behind the stone building. I put Gandalf near the middle surrounded by warriors, with Ecthelion and his Guards in the second rank directly across from the objective. My rangers were to the right of them, and I had a detachment of 10 more warriors right of the rangers. My plan, similar to the Gathering, was to grab the objective, hand it off to the right, and run it up the side. I was really looking for a chance to Command someone near Ecthelion to allow a Heroic Combat to put me around the objective.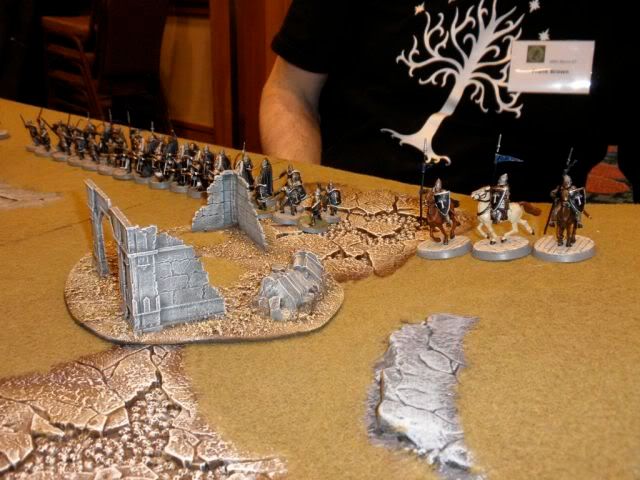 Frank, quite understandingly, did not oblige me in this. He moved Boromir and his cavalry escort to my left but kept them behind the house. His other horsemen hid behind the stand of trees in order to force in the way checks. His infantry line began its advance across the field. I let 6 of the rangers move 3", while the rest of my infantry mirrored Frank's infantry, moving forward. Gandalf cast Cast Blinding Light and my archers failed to wound anything. The second turn saw pretty much the same thing, though I only moved three inches with all of my rangers and managed to kill one of the knights on my right and unhorsed another, who promptly broke his neck from the fall, leaving only one knight on my right. Gandalf also got Terrifying Aura up.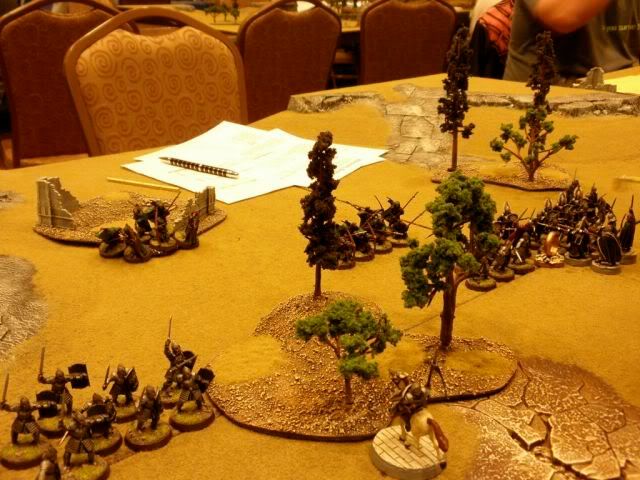 Turn three, and this was the turn the lines would hit in the middle. With the cavalry pretty much dead on my right and hiding behind the building on my left, this would be decided by the ground pounders. I won priority and advanced my line up to the center line, opening a hole for Ecthelion to come forward. However, since he was in the second rank, he didn't come into contact with the objective. The rangers moved 6" forward to try to support the line but would take a turn to catch up due to the time spent shooting at the knights. Gandalf also came up and knocked down the center Guard of the Fountain Court with a Sorcerous Blast, sending him back into some Citadel Guard and Cirion, knocking them all on their butts but killing no one. Frank sent most of his line forward to meet mine, Guards of the Fountain Court in the lead, though he kept a few back off the line, including the stragglers who were knocked down. Boromir and his buddies finally made an appearance, coming out from behind the stone building. The combat went Frank's way, however, with both of my troops contesting the objective being shoved off. I lucked out, however, as Frank failed the 4+ roll needed to dig it up.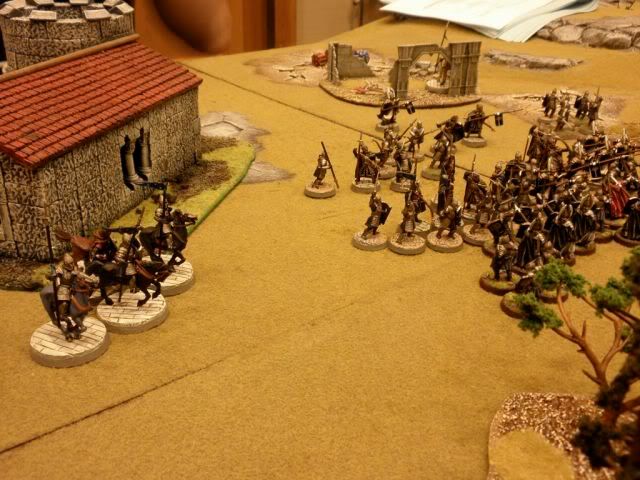 The next round was pretty critical. Frank won priority, but I called a heroic move with Gandalf. I forget if it was contested or not, but I went first. Gandalf blasted one of Frank's Fountain Court Guards off the objective, and that killed a Citadel Guard behind him. Ecthelion and my own Fountain Court went into the gap, isolating the objective from most of Frank's force. I wanted to send more of my troops up the left side, but due to Gandalf's Heroic Move I had to pull them back to cover my flank, allowing me to put more effort into the fight in the center. This proved a fortuitous move. I hadn't bothered to measure how far away Boromir and friends were, and while his knights managed to get into combat with my flank guard, Boromir was 10 1/8" away, BARELY outside of what could have turned into a devastating Heroic Combat.
Instead Boromir went towards the middle of the fight. We finally started killing some models in the combats that followed, but neither side was able to dig up the objective. Frank called a Heroic Combat with Cirion, who was in contact with a single warrior of mine. This felt very similar to the position I put Brent Sinclair in during the same scenario at the Gathering – do I save the might, or call the Combat in order to try to keep my escape channel open? I decide to allow the Combat to proceed unchallenged, and while Cirion does win and kill the warrior, he only managed to cut my spear support, and he didn't manage to kill that Guard of the Fountain Court.
I win priority, but Frank calls a Heroic Move and I lose the challenge. Frank throws Boromir into Ecthelion. Uh oh. He also sends his remaining knights around my left flank. The knights are no problem – I've got extra troops behind my lines that promptly surround them. Boromir is another problem. Gandalf casts Transfix on him, but with his lone point of Will and a point of Might he shrugs it off. In the ensuing combat, Ecthelion is knocked to the ground but only wounded once, which I shrug off with Fate. He's fighting Boromir, however, the man you send when it-absolutely-positively-has-to-die-right-now. Blowing three points of might, he turns a four and a five into sixes, ending Ecthelion's life and prompting a discussion about whether or not Boromir needs to make a Fate roll for creating a time traveller's paradox. And guess what? No one manages to dig up the artifact.
The next turn Gandalf turns Boromir into a drooling idiot, or as we put it Boromir had to stop mid-battle and contemplate the consequences of killing his own grandfather. I've now got my flanking force deep into Frank's left, and I've dispatched all but two of his knights. Other than Ecthelion's death and the objective still being on the ground with an hour and fifteen minutes remaining in the game, things are going my way.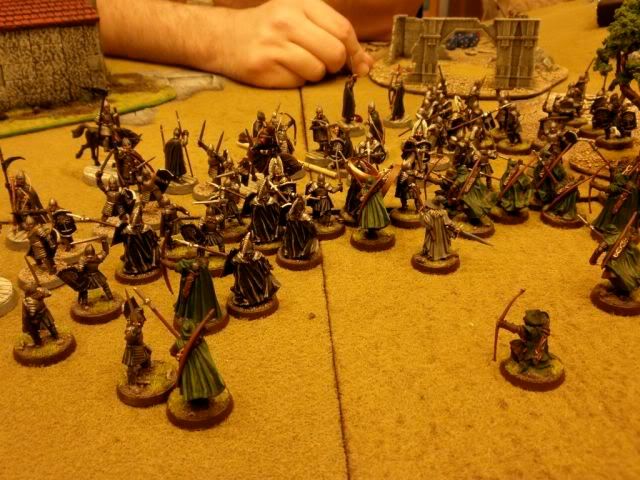 The next turn I finally manage to dig up the artifact and whisk it away to Gandalf. I start shifting my force to my right, creating a channel towards the table edge, and I send some models forward to act as couriers. I've got a pretty effective blocking force in place, so Frank starts trying to head me off, particularly with his cavalry. By this point I am out of might, so I'm at the mercy of the priority rolls and Boromir. Time is starting to get tight, with about a half hour left and the artifact only just past the centerline.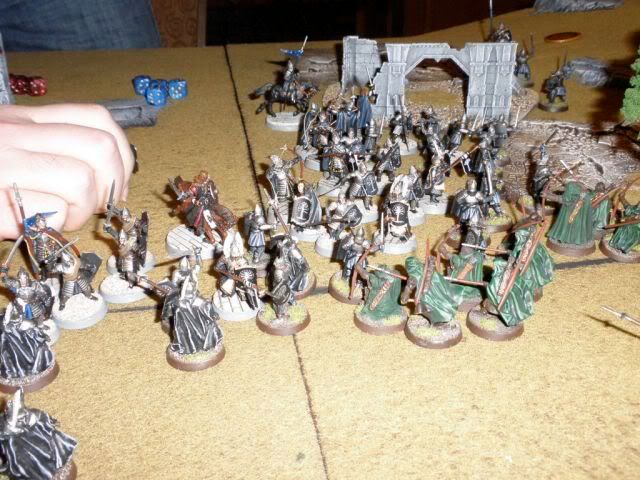 Frank tries to block my run down the side with his two remaining knights, but I surround them and kill them. Boromir is a bigger problem, and I see him lurking outside of Gandalf's range, just waiting to pounce. Frank is trying to break through my blocking detachment, but it just isn't happening. I've handed off the artifact twice, but as time winds down, I'm still three turns from the sideline with Boromir waiting to pounce. While neither of our forces are broken, the artifact is still on the table.
RESULT: Draw
Frank is an absolutely outstanding player, and this battle proved it. We were fairly evenly matched, with Frank having more combat power and mobility and me having Gandalf's trickiness. The result was a knock-down, drag-out draw with some great play on both parts. About halfway through the game, Frank remarked, "I'm starting to hate you – you aren't making any mistakes!". While I appreciate the sentiment, there were two mistakes that I think I did make, one of which I paid for and the other I barely dodged.
The first mistake I made was actually the result of a mistake I made in one of my lead-up games. I had left Ecthelion in the front rank of my force but outside of Gandalf's Blinding Light. On the first turn of the game he was gunned down by Dwarf archers. I realized I had to leave other people in from of him on the advance in order to protect him from archery, particularly S3 like Frank's longbows. Unfortunately, what I REALLY should have learned is don't put Ecthelion outside of Gandalf's Blinding Light! By not putting him in the front rank directly across from the objective, he didn't get there turn 3, where I had priority, and could have dug it up with his might on anything but a 1. I then could have done the exact same thing I did later in the game (our forces weren't too degraded due to all of the D6 and 7), saving a huge amount of time. Time management is critical in tournament play.
The second mistake was that I didn't measure how far Boromir was from my line when pulling in my left flank. My unconsciously calibrated eyeball must have saved me if it wasn't dumb luck, but if he had managed to launch that Heroic Combat he would have put Boromir up close and personal with Gandalf, which could only end one way.