My 9 year old son has started to express some new found interest in the GW hobby that I've become infatuated with. You may not no, but its thanks to him that I first painted a miniature. He really wanted to try it out so we bought the Moria Painting kit (came with 12 goblins) and we were off. He lost interest quickly as most 8 year olds (he actually may have been 7) would. But not before getting me HOOKED!
One of the presents he got for Christmas that year was a Plastic Balrog. I had assembled it for him and he'd painted bits and pieces of it a couple times. Recently, with all my tournaments goings on, he decided he wanted to paint and play too. We blew the dust off his Balrog last night and he put some more paint on it.
This morning he decided he wanted to play a game. So I figured, I'd pull out the Mahûd and see how those knee-knocking fearful scared cats would do against the Ancient Evil. My 7 year old little girl is infatuated with cameras right now so she documented the whole battle.
We played on a 2x4' table (part of the Moria Demo table). He had a single Balrog and I had 350 pts worth of Far Harad. My son was convinced that he was going to lose (I only have one guy dad!) and I knew otherwise.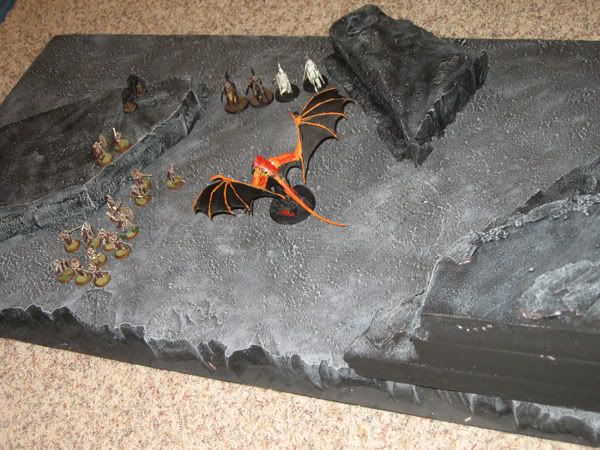 The first couple of turns were used for both of us moving full speed ahead. I tried to find a way to flank around with my new Mahûd Raiders and I knew my only real chance was the get the king to pass the stinking courage tests!
First turn of combat was a success! Even with the Ancient evil -1 to courage (Net of 3), I rolled an 11!! After the King was "safely" locked in combat with the Balrog, I charged in two Raiders (one of which rolled the 6/4 needed to score a WOUND!), a half troll w/ a two handed weapon, and 5 more Mahûd warriors. The Balrog was down a wouond already and I had a whopping 15 dice to roll for attack! My son picked up his four dice to attack and rolled a 6, 6, 5, 3. Sheeesh. I didn't even bother to roll as I couldn't beat his FV9. He proceeded to kill 2 Raiders and tried to put a wound on the King which he just missed.
The next turn, he won priorty and charged into my remaining Raiders. My King managed to pass his courage test and I got 2 more Mahûd Warriors and two Half Trolls into Combat. He only rolled a high of 4 and I was able to win the fight. I had 15 dice to wound and failed to cause a single wound, even with the Half Troll only needing a 5! It wasn't looking good for me.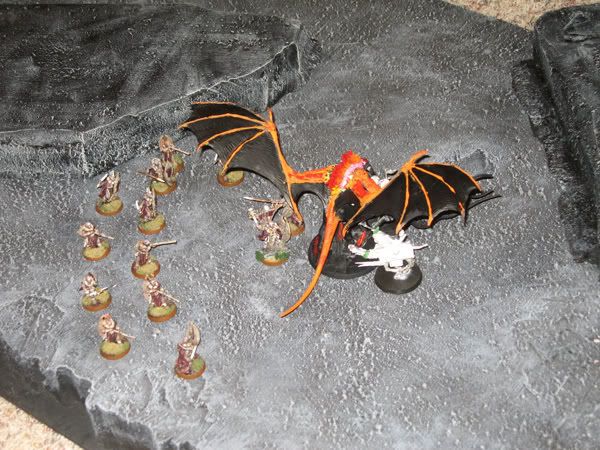 The next few turns, he won most priority rolls and systematically charged my Raiders, then King. He killed the last two raiders on one round of combat and on the next turn he put 2 wounds on the King. I saved one with Fate but fell the next turn.
The route was on. After two or three more round of brutal combat, he was killing any and all Mahûd that managed to get a charge in (keep in mind I needed to roll a '10' to charge!). There was one round where I had spear supported Mahûd warrior actually win a fight and rolled the 6/4 that he needed. Two wounds total inflicted on the Balrog. He managed to kill three warriors the next turn. I didn't pass a single courage test the rest of the game.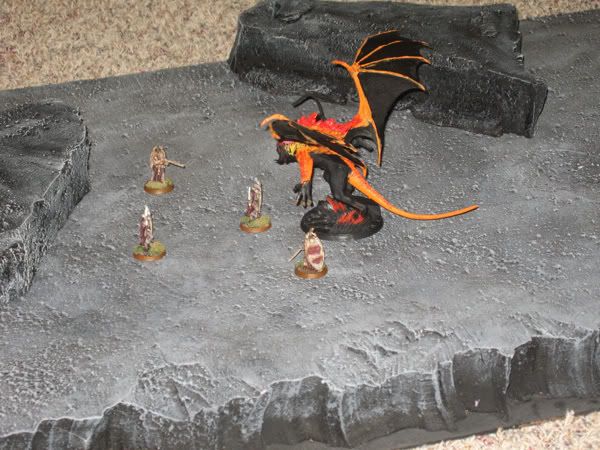 As I predicted and my son was pleased to see... Victory to Balrog.